Well, Season 4 of
Project Run & Play
has begun and I decided that I will participate in the at home Sew Along. I contemplated this the last season, but really I needed clothes not the kids...a few week later and that has changed.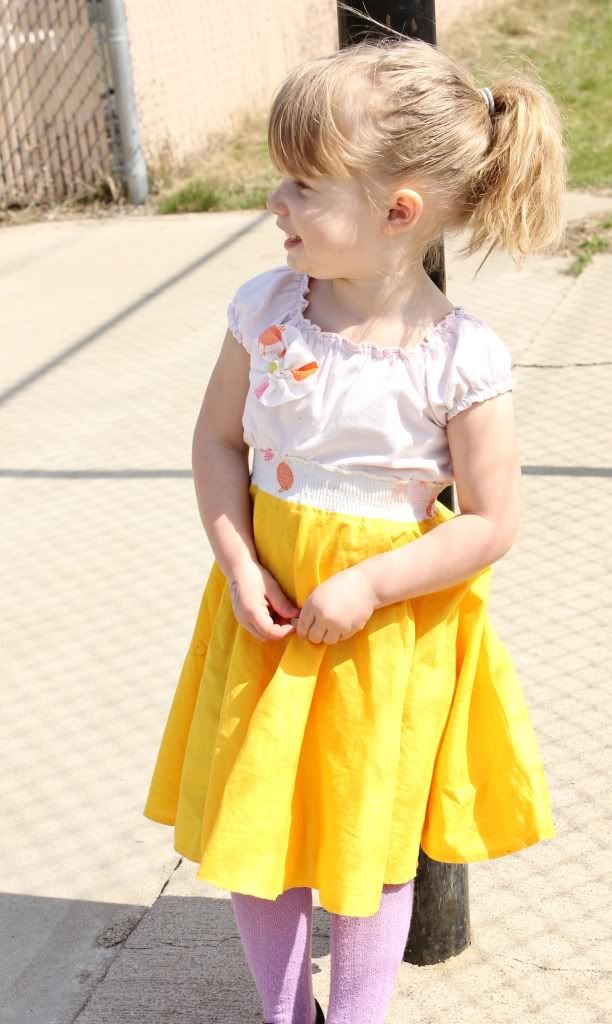 This week's challenge is to refashion the
Circle Skirt by Dana
. I must admit that my first thought was how do you refashion a skirt except to make it into a dress? I have since then thought of other options...including making a pair of pants. But I didn't do that. No, I stuck with the first idea that came to mind which was a dress.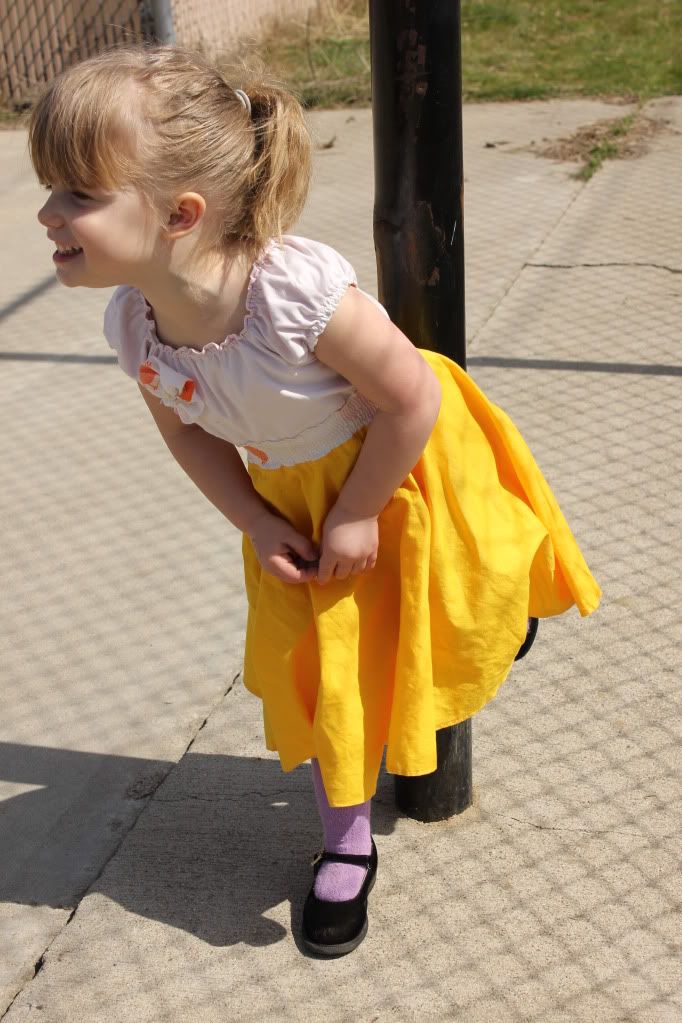 As I made this I realized what kind of designer I am...I am a design as you go. That isn't to say I can't sketch out an idea, take notes and try to make it...but I feel much better with my finished product when just cut out fabric and go! Which is what I did here.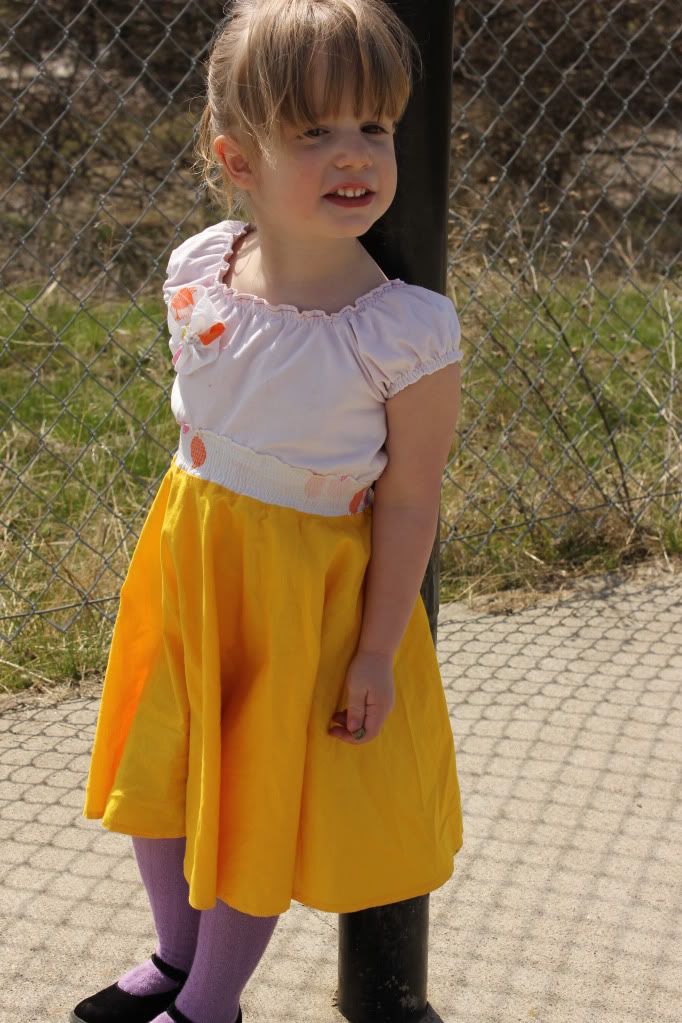 Really, it's an Amelia Bedelia dress, because I put a little of this and a little of that and came up with a dress that has no closures, but is still easy enough for Husband to put on his princess and has enough flair that Elsa will wear it but is still able to climb, swing and get messy in.
see the dirt on the back?
Part of me felt like it was missing something but I just can't think of anything and my high school art teachers wise advice rang in my ears "When you think you're almost done, STOP! Go any further and you'll ruin it." Best advice ever.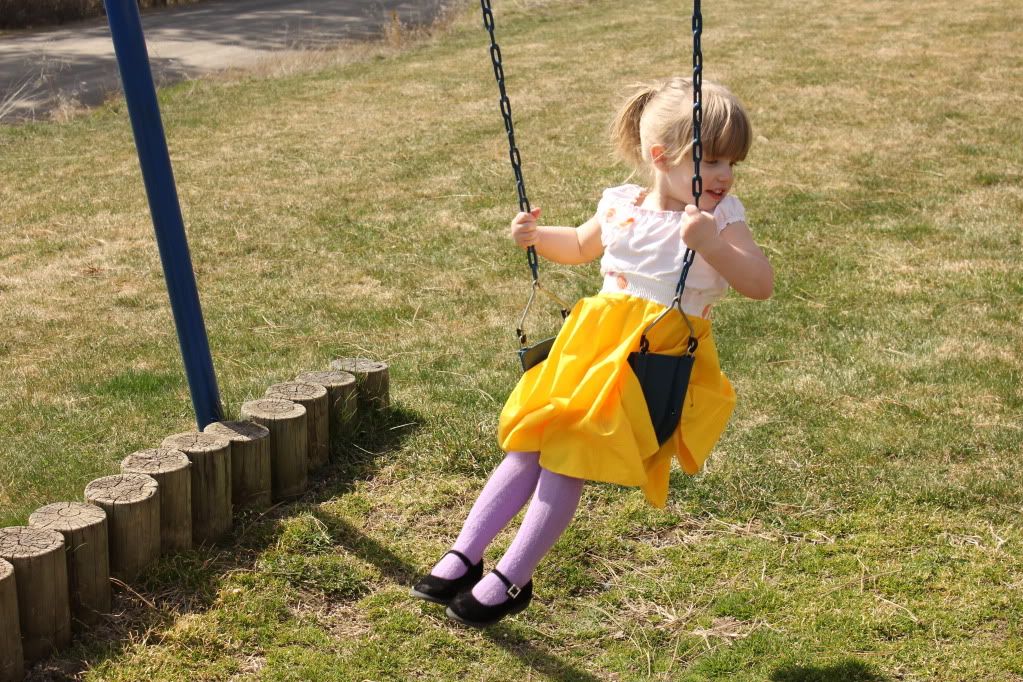 This is what I did. I cut out the circle skirt per directions. I sewed on the the waistband which is just cotton fabric that was a few inches short of the full circumference of the waist of the skirt. I then shirred the waistband at 1/8 inch intervals. Then I added a box pleat in the back to fully enclose the waistband (just a little zigzag over the edges). Next I made a peasant top. I knew that I wanted and empire waist in the front but a natural waist in the back so it isn't even on purpose. It give the skirt a little (2 inch maybe) train...but I love it!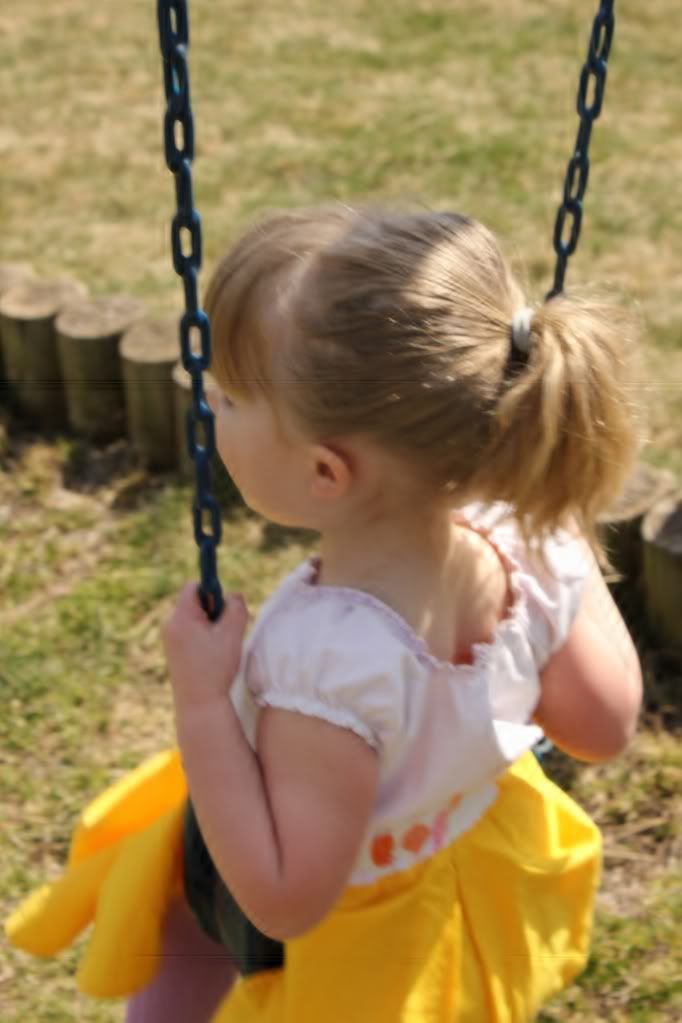 fr
sorry it's a little blurry...action pictures
Well what do you think? True to my goal I made some of it with yellow fabric to show my support for those suffering from
endometriosis
and raise awareness too. Elsa actually wore this Sunday for Easter and I really think she loves the twirl of the skirt.