This weekend I made myself a new outfit. Honestly it wasn't an intentional plan I my part to make a new outfit but it happened and I loved it so much that well, I have to share it with you...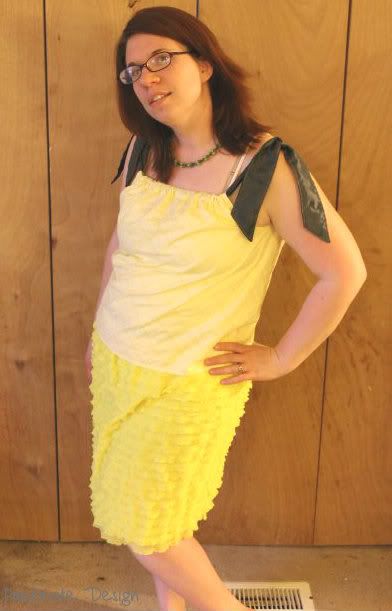 It's yellow too! A few weeks ago, after wearing orange every. single. day. (not that there is anything wrong with orange) I realized that I needed to break out of my color rut and try some new colors :)
I found this fabulous yellow cotton at my local quilt shop, it has a very light plaid design (not sure if you can see it...
So I quickly whipped up a pillowcase top for me, threw in a little gray for the ties and in just over an hour I had a top. The best part about the top is that it used just over 1/2 yard to make! I freely admit that when it isn't on I think it'll be too short but am always surprised when I put it on and it is the perfect length :)
The skirt is made out of that fantastic ruffled fabric. When I wore it to church Sunday I did have to tell everyone that it was the fabric and not my sewing ability to make all those ruffles (though I think I hear a challenge in that).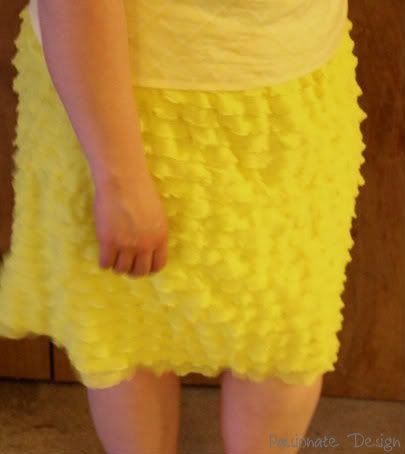 I picked up the ruffled fabric at Hobby Lobby on my Mother's Day excursion. It was on sale 30%, just too good of a deal for me to not pick up a 1 yard to try. The hardest part about the skirt is cutting it out and pinning down all those ruffles before sewing. I avoid pinning if I can. I took my hip measurement added 2 inches and then measured how long I wanted the skirt. Since the fabric is a knit you don't have to add for the hem. So I cut out a rectangle with the measurements, pinned the unfinished edges on each and every ruffle, then quickly stitched the one and only seam. Then I took some elastic for the waistband and just attached it like
Dana
shows on her
Circle Skirt
tute.
Fastest skirt I ever made, and probably the most comfortable. It doesn't cling, but flows and the ruffles hide all that you want to hide :)
So what do you think? You like? I love it! Best of all it isn't orange.